With a wide product range and a private label production all over the world, Golf Cosmetics has a significant market share in the international market, especially in Europe, Middle East, Asia and Africa, has been carrying out the production of its own brands and of many "Private Label" brands.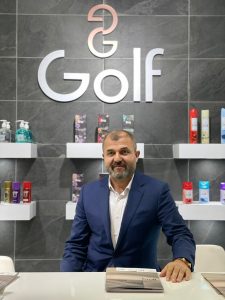 Can you tell us about yourself and the origin story of your company?
"I was born in Malatya in 1972, moved to Istanbul for high school education after completing primary school in my home city. After then, I entered the business life simultaneously here and  founded my first family company, Ünver Luxury Hardware, in Istanbul Tahtakale in 1990. Between 1990 and 2008, I gained significant experience in the commercial field with numerous import and export activities. In addition, as chairman of the Board of Directors of Unver Group, I incorporated Golf Cosmetics in 2008. Currently, serving as chairman of the Board of Directors of Golf Cosmetics."

Your product categories are divided into Personal Care, Home Care, Auto Care and Contract Manufacturing. Can you detail your product range for us?
"We produce both as our own brand and as a contract manufacturer the personal care product, the home care products and the car care products, that all the production processes of which we make in our own facilities.
In personal care category, we produce deodorant, body splash, liquid soap, shaving foam, hair spray, shampoo, Eau De Cologne.
In home care category, we produce all types of air fresheners (alcohol or water based with different cans styles), reed diffuser and some gas products for gardens such as lighter gas, butane propane gas mix cartridge, insecticide, furniture polish and so on.
In car care category, we produce auto silicone and tire polisher."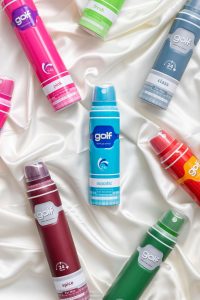 You are a company with an understanding of "value for employees". Could you tell us about your Human Resources Policy?
"Work processes are always carried out in accordance with the rights of the employees and the laws. Our employees and us remain true to the principles of honesty regarding our mutual responsibilities. Since we believe that our business will improve with the employees' feedback, we are open to all opinions and criticism. In our company, everyone's opinion is considered important and taken into account.
Most importantly, a friendly working environment is provided where employees can work comfortably but unselfishly.
We invite all those who wish to add value to our company and adopt our HR policy to be included in the application process through our career form."

What kind of production approach does "Golf Cosmetics" adopt?
"As Golf Cosmetics we ensure the continuation of the production and the variety; we adopt as the most basic policy of our company to protect our common future and to ensure the sustainable production by making it more liveable. Thus, we can explain our understanding of sustainability firstly by protecting the environment and by supporting the social and the economical developments."

What do you think about sustainable production as a company? Do you have any work on this subject?
"We care sustainability in production. Our health and a liveable world perception is getting more and more threatened every day due to the increase of the carbon emissions and the environmental waste with each passing day. Therefore, we as Golf Cosmetics, support the use of thinned tin and recyclable plastics with our understanding of minimum waste in the production. Thanks to this we reduce our annual carbon footprint at a level of 15%.
Beside the environmental supports, contributing to the economy in a "right" way is one of the building blocks of our sustainability policy. In this context, the income transparency, innovation, and R &D are prioritizing the energy and the waste savings and we are trying to do our best to work for the welfare of the society.
Golf Cosmetics, which always is focused on people, continues to contribute devotedly to the employment in the country with the intention to contribute in every respect to the social developments in the society and by observing the business ethics-compliance and the employees' rights within the company."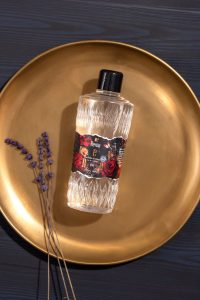 What about your export activities? When you consider the upcoming periods, do you have any new strategies for export?
"We have been continuing our export activities in 4 continents and 50 countries for about 15 years. In order to reach different countries, we provide physical and tenth participation in various fairs and export delegations in both EUROPE and the MIDDLE EAST.
Recently, in our factory, which we have expanded and developed, by offering competitive prices to our customers with our state-of-the-art production tracks our major goal is to grow and spread our export volume.
In addition, in our new factory, we want to add high value added products such as skin care to our product range and we would like to serve the whole world with our own brand and contract production."
How do you evaluate your current position in the market?
"With our 15-year relationship, I believe we have strong exports, especially in the Middle East and North Africa. Recently, our goal is to expand to Europe and United States with the high demands and to increase our export volume there exponentially every year."