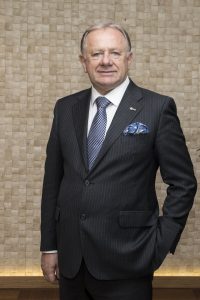 The Turkish national participation organization of the Cosmoprof Worldwide Bologna 2022 fair, which is among the most important fairs of the cosmetics industry, was held for the 13th time this year by the Istanbul Chemicals and Products Exporters' Association (IKMIB). The cosmetics and cleaning industry, which made a total of $ 1.87 billion in exports last year, increased its exports to Italy by 26.48 percent.
Cosmoprof Worldwide Bologna Fair was held in Italy between 28 April-1 May 2022. At the Turkish stand of 272 square meters in total, located in the 16th hall of the fair, 19 national participant exporter companies presented their cosmetic and cleaning products to the visitors. In addition, 42 individual companies from Turkey participated in the fair, and a total of 61 Turkish companies had the opportunity to introduce their products to potential buyers.
İKMİB Vice President Mehmet İmer Özer, İKMİB Board Members Uğur Adıyaman and Murat Öztürk and Tim Delegate Süleyman Özgür Öztürk attended the fair, where the Turkish national participation organization was held for the 13th time by İKMİB, and visited the companies.
 "The cosmetics industry grew by 3 percent in 2021"
Commenting on the fair, Adil Pelister, İKMİB Chairman of the Board said, "Cosmoprof Worldwide Bologna, which is among the most important fairs in the world for the cosmetics, personal care and cleaning sector, is held in Italy every year. The national participation organization of the fair, which has brought together industry professionals from all over the world for more than 50 years, was held by our Association for the 13th time this year. It could not be done for two years due to the pandemic. It is pleasing to see that the fairs have started again as of this year. As İKMİB, we carry out many activities such as national participation organizations, sectoral trade and procurement committees, UR-GE projects, competitions in order to contribute to the export and development of our sectors. The exports of our cosmetics industry, which has an important place in terms of value-added production among the sub-sectors of chemistry, amounted to 1.4 billion dollars in 2021. It grew by 3% compared to 2020. In 2021, we exported "soaps and surface active organic substances", "shaving preparations and body deodorants" and "hair preparations" the most. When we look at it as a country, Iraq ranks first, followed by the USA, Russia, Iran and the Netherlands as the top five. Last year, exports of cosmetics and cleaning industry to Italy increased by 26.48 percent and amounted to 20.9 million dollars. We are continuing our efforts to establish our Chemical Technology Center, which will be the first in Turkey, where our industry exporters will be able to provide the international certificates and test reports they need, especially for their exports to Western countries, faster and at more affordable prices. One of the sectors that will be served at this center in the first place will be cosmetics. We are working on the issues that our sub-sectors need. We aim to complete the necessary studies by the end of this year and make our Chemical Technology Center ready for operation."