Çiftsan, which set out to produce the best in 2007, continues to make a name for itself by representing the country in the best way at home and abroad. We interviewed Ebru Yolgun, Member of the Board of Directors at Çiftsan Etiket & Ambalaj, about the joyful journey of the label and packaging world…
Could you tell us about Çiftsan Etiket & Ambalaj?
Çiftsan Etiket & Ambalaj is a family company established in 2007 with the aim of always producing the best. I believe that our company has led the development and growth of our sector with the domestic and international awards it has received during this time, as well as representing our country abroad in the best way.
I can say that we have all the printing techniques that can be applied to labels and packaging with our state-of-the-art printing machines. In addition, we produce sleeves, sachets, laminated tubes, self-adhesive and non-adhesive labels.
We have accomplished many successful projects with my team, which is not afraid to push the limits on this path we set out to produce the best. Many of these are important projects of leading brands in their sector, which have made a sound. Increasing our capacity with new investments we will make in the near future and offering solution partnerships to more brands is among our short-term goals.
TEAM SPIRIT SUCCESSFULLY MANAGED MANY STAGES
To which sectors do you generally provide label services?
Until a short time ago, we were mainly serving the cosmetics, hygiene and alcoholic and non-alcoholic beverage sectors. Afterwards, I can say that we have served many companies in many fields with our new investments.
One of the most distinctive features of Çiftsan Etiket & Ambalaj is that it has the vision and equipment to manage the projects of brands. In this direction, very important trainings are given to our team by our General Manager Mr. Hakan. We continue to make a difference in our industry, and we will continue to do so, with our team, which has the knowledge to successfully manage many stages of the birth of a brand, from packaging to label design and printing. I can say that this is our most important feature that makes us different in the sector.
"WE ARE SHOWN AMONG THE IMPORTANT COMPANIES LEADING THE WORLD LABEL INDUSTRY"
You are talking about 135 awards in 8 years, quite a success. What about the criteria to your success in general? What is the secret of this success?
Çiftsan Etiket & Ambalaj is among the important companies that applied many printing techniques for the first time and steered the world label industry. These are the important thoughts of industry and brand representatives that we value. This process does not progress well in structures that are not open to continuous development and learning. This is one of our biggest focuses. We are a team that always works hard to produce the best with a vision that does not hesitate to push the limits. We want the world to watch the best labels and packaging we produce in the coming years by doing even more great work in the future.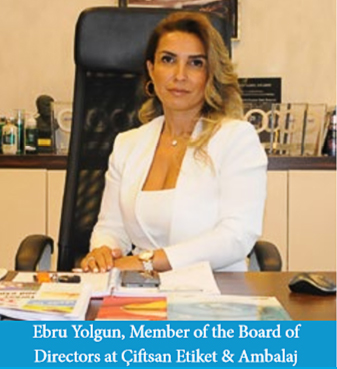 EXACTLY 20 PRIZES
The awards you recently received in Italy caught fire in your industry. Can we get your impressions of the award ceremony and its atmosphere?
In 2021, our priority due to the pandemic was to produce the labels and packaging of the products needed. For this reason, we decided at the last minute not to participate in the 2021 FINAT organization, which is very important to us. After two very difficult years, after the normalization process of the societies, this year we received our awards in a wonderful professionally prepared organization in Baveno, one of the coastal towns of Italy. In addition to the pride and happiness of being awarded in many categories on this important night, I think we have renewed a record that belongs to us with the 20 awards we received.
The Variable Data Printing application you use is very popular.
Could you tell us exactly what kind of advantages it provides to your customers?
One of the most important features of the latest technology printing machines in our structure is Variable Data Printing. There are several reasons why important brands prefer this printing technique lately. First, their goal of making a difference in the market they compete in by customizing their products. I think the brands that make up this difference buy larger slices of the existing cake. The other is the desire of companies to protect their products and brands for security reasons. Leading brands in the industry have recently started to use these features very often. The aim here is to ensure that their products can carry out both stock and production controls in a healthy way, and at the same time, prevent their products from being imitated in the market.
"WE WORKED FOR OUR VISUALLY DISABLED PEOPLE TO OVERCOME THE OBSTACLES"
We know that you carry out all the stages of the label with precision. Could you tell us more about the printing technique you use for our visually impaired people?
Based on the question why we do not use Braille alphabet applications, which we see frequently abroad, for visually impaired individuals in our country, we started to produce labels using this printing technique for the first time in our country, about 10 years ago, within the scope of the Social Responsibility Project. Braille Alphabet Labels is one of the important innovations that we brought to the sector as a result of the projects we carried out together with the Six Dots Foundation for the Blinds and Eyüp Sabri Tuncer, one of the leading companies in the sector, in order to popularize this practice in the following years. Our aim in bringing this printing technique to the industry and in our efforts to make its use widespread is to help visually impaired individuals do their shopping freely without the need of another person, to define what the product they buy or use is, and thus to touch their lives a little bit by helping them overcome the obstacles in front of them. As of now, we are producing labels and packages using this printing technique with nearly 70 domestic and foreign companies. I hope that we can help our visually impaired people overcome the obstacles in front of them and make their lives a little easier with more brands preferring this printing technique.
What are your thoughts on the situation of Çiftsan Etiket & Ambalaj in the domestic and foreign markets? Are there any new investments in the near future?
In fact, we are heading towards completing an unpredictable year for us. We are going through a difficult year with wars, pandemics, economic problems in the world and raw material problems. In this process, Çiftsan Etiket & Ambalaj maintains its position as the first supplier of important brands in the domestic market, and continues to work in cooperation with important countries abroad. One of our most important goals is to develop and manage this process. We are working on this seriously. We are spending a lot of time on the investments we aim to raise this year. Of course, raw material and logistics problems experienced in the world affected all sectors as well as machinery manufacturers. The machine delivery times here are about twice as high as they should have been. One of our goals is to raise some of the investments this year. I hope we can make it happen.