At Alâ Hotel, the favorite place of the region's regulars, which fits perfectly with the privileged texture of Alaçatı, which preserves its historical and natural structure, a feast of taste will be experienced on August 2-25. Dutch-Turkish chef Aytekin Erdoğan is coming to give unforgettable flavors on the palates of food lovers with his unique flavors combining Western and Eastern cuisines.
Alâ Hotel, which supports the boutique service approach it has been keeping since 2010 with high-level hygiene measures and offers a hidden paradise in the heart of Alaçatı, will bring together the unique menu of Dutch-Turkish chef Aytekin Erdoğan on August 2-25. With the Blanco by Aytems concept, different and extraordinary combinations of Western and Eastern cuisine will be offered to food lovers.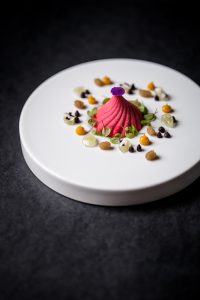 Tastes of East and West meet
Chef Aytekin Erdoğan, who takes food lovers on a tour, introduces them to Ottoman cuisine in his own style. In Erdoğan's menu, flavors of the East and the West meet, techniques and influences of French cuisine are combined with local products.
In addition to appetizers, Erdoğan chef's menu includes eggplant compote with risotto, angel hair (kadayıf) decorated with flower petals and tiger shrimp, and eccentric tastes accompanied by shrimp, rondo spices such as pumpkin cream and saffron tartlet.
The address of a peaceful holiday: Alâ Hotel
The facility, which is designed to offer surprise and quiet living spaces with its private inner gardens and courtyard, differs with its completely natural, massive handmade furniture brought from different islands of Indonesia, a garden landscape where the Mediterranean and tropical plant flora is successfully synthesized, and peaceful details is waiting for its guests who want to taste the isolation without breaking with the spirit of Alaçatı.