Remarking its name of our country in the healthcare vehicles industry as a "quality ambulance manufacturer" to the whole world, ENAK continues to serve with its developed customer portfolio.
Continuing its activities in the healthcare sector by producing healthcare vehicles in accordance with international standards for many organizations in the country and abroad, ENAK Ambulance produces the highest quality mobile healthcare vehicles in line with the wishes and needs of its valued customers.
By exporting to more than 40 countries, the brand, which is well-known in the health sector and is a candidate to take an active role in every life saved, is also expanding its customer portfolio by following the business ethics principles such as honesty, reliability and durability, gaining the approval of the customers and recommending them to their close circles.
The company, which started its activities in Germany in 1993 and continues its 28 years of experience in Turkey and exports around the world, continues to boost the sector as one of the leading names of quality healthcare equipment manufacturers in Turkey in the health sector.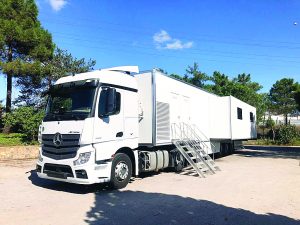 Mobile Hospital features:
Developed with care to the smallest detail, the Mobile hospital stand out with its following features;
– The main entrance door of the mobile hospital is at the back and has a wheelchair access ramp for the disabled.
– The mobile hospital can close in a few minutes.
– When the oxygen is low in the mobile hospital, spare tubes can be activated.
– The oxygen system stands out as the most special mobile oxygen system in the world. Inside, rooms and patient units are distributed with special pipes and oxygen flow meters.
– There is a 50 KW diesel generator operating uninterruptedly in all weather conditions in the mobile hospital. Since the generator is designed to operate all kinds of medical devices, it can operate both mono-phase and three-phase.
– Includes clinical emergency department.
– The operating table, operating lamps, medical equipment, fully equipped surgical intervention and operating room section are the most important parts of the mobile hospital vehicle.
– The pharmacy section where hundreds of drugs will be exhibited in the mobile hospital has been specially designed. There is a special ventilation and medical cooler in the pharmacy.
In addition, ENAK, operating in the health sector, expresses at every opportunity that it attaches great importance to customer satisfaction with its quality policy, innovative product design, cost-effective production and timely delivery.