Knauf increases the acoustic performance of offices, education, sports, entertainment and recreational facilities thanks to functional, aesthetic-looking wood-based Heradesign® systems that integrate with the environment by combining all with aesthetics. Consisting of main components like wood, water and magnesite, Heradesign® embraces the nature with its sensitivity to ecological balance and sustainable technology in relation to product technology and raw material use.
It is not only what we hear but also what we feel is very important to create spaces that are pleasant, positive and that increase concentration and efficiency. Combining high-performance solutions with a professional, innovative and value-added perspective, Knauf reduces all annoying background sounds with its wood-based acoustic systems Heradesign®.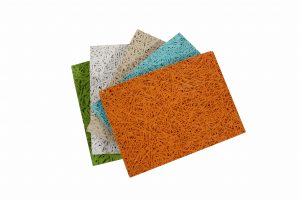 Positive qualities in living spaces are increasing
Providing the perfect solution for offices, education, sports, entertainment and recreational facilities, Heradesign® can be applied on both wall and ceiling surfaces.  With its timeless and authentic designs, the product opens the door to many creative options, increasing the positive qualities of living spaces thanks to its sustainable materials, advanced technology and excellent sound absorption. Compatible with almost all ceiling systems and profiles on the market, Heradesign® offers endless variety of designs.
80 years of durable, recyclable acoustic solution
Heradesign® provides high-quality acoustic solutions based on wood wool for ceiling and wall installations. Reflecting a warm character with its unique design, Heradesign® is presented as an ecologically valid and completely harmless solution in terms of building biology. While acoustic boards can last more than 80 years, they can be easily removed, painted, cleaned and recycled.
Steam and moisture resistance meets heat insulation
Heradesign® differs from its counterparts in that it has the principle of sustainability and protection in terms of product technology and raw material use. The product, which is not affected by steam and moisture, provides heat insulation as well as its acoustic feature.
In many European countries, Heradesign®, one of the most preferred products thanks to its decorative properties and strong acoustic and strength properties, is available with different color, size, surface and edge options.
#Heradesign, #acoustic, #surfacesokutions