Istanbul Airport, which has already proven itself as a global hub in its first year of operation on account of its unique architecture, strong infrastructure, superior technologies, and the outstanding travel experience offered to its passengers, has made yet another achievement by qualifying for the "LEED Gold" certificate. The U.S. Green Building Council (USGBC) has officially registered Istanbul Airport's terminal building as the largest LEED certified building worldwide.
Always acting in line with the principles of sustainable development, İGA has been deemed worthy to receive the "LEED Gold" certificate as result of the application İGA lodged with the USGBC for Istanbul Airport's terminal building. Thus, having made a distinguished name for itself with energy efficient and environment-friendly practices ever since the very beginning of design works to the construction phase and from its inauguration to operations at full capacity, Istanbul Airport has made yet another achievement in aviation industry by qualifying to become the world's "largest LEED certified building".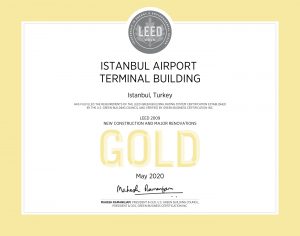 Istanbul Airport successfully passed LEED's demanding certification system
LEED Certification is a long-running process from the design process to completion of the buildings and covers a wide range of aspects that involve several disciplines. The system evaluates the buildings under various categories such as sustainable land, water efficiency, energy and atmosphere, materials and resources, indoor environmental quality, innovation in design, or regional priority credits. Buildings satisfying the prerequisites earn one of four LEED rating levels: Certified, Silver, Gold or Platinum based on the number of points achieved.
LEED Certification Credit categories give prominence to criteria such as promotion of public transportation and alternative transit systems, implementation of certain methods for water savings and efficient use of water and keeping energy efficiency in the forefront during design and system selection. Along with the foregoing, buildings are also rated according to the points achieved in categories like prevention exposure to volatiles harmful to human health and tobacco smoke as well as their removal from indoor spaces, control and improvement of indoor air quality, and utilization of daylight.
Istanbul Airport makes significant savings in terms of water and energy efficiency
Having manifested its position as a gamechanger in aviation industry, recognized among the best airports worldwide, Istanbul Airport continues to set a worldwide example with its environment-oriented practices and commitment to sustainability. In terms of water efficiency, Istanbul Airport is using low water consuming faucets and toilet tanks, while the use of grey water in water tanks is expected to reduce the building's water consumption by over 50%. In addition, water consumption in the airport's landscapes is reduced by 100% thanks to low water consuming plant selections and use of treated wastewater.
Thanks to the use of energy-efficient mechanical equipment, efficient lighting fixtures, and energy-efficient façade design, Istanbul Airport's energy consumption is reduced by over 22% when compared to the base building defined in ASHRAE, an internationally recognized standard. Along with that, heating, cooling, ventilation and lighting loads as important components of energy efficiency monitoring are measured one-by-one to monitor the systems' individual energy consumption.
Airport with 'highest recycling compliance'
Continuing its operations led by the mission of Zero Waste, İGA has been displaying an exemplary attitude in terms of recycling the materials and resources, starting from those used in the construction phase of Istanbul Airport. Most of the waste generated during airport construction works is sent to recycling and reuse, and thereby the amount sent to the dump site is reduced by 93%. In this context, all domestic wastes and recyclable wastes generated during construction are monitored regularly, while ultimate attention is shown to the use of Materials with Recycled Content and Materials of Local Origin. Ever since Istanbul Airport has commenced to operate at full capacity, recyclable wastes are collected also during operation in all blocks separately and recycled, as necessary.
Passenger comfort among Istanbul Airport's sustainability criteria
While the mechanical air handling system for improved indoor air quality and passenger comfort at Istanbul Airport is designed to surpass the ASHRAE fresh air standard by 30%, indoor temperature in all spaces is set in accordance with the values prescribed by ASHRAE. Thus, passenger comfort is maximized at all times, while indoor building chemicals (paint, primer, adhesives, compounds etc.) are selected in line with international human health limits.
"Airports mirror the city they are located in"
Commentating on Istanbul Airport qualifying to receive the "LEED Gold" certificate, Mahesh Ramanujam, President of the U.S. Green Building Council, remarked that the size of buildings is no obstacle to sustainability, and put particular emphasis on the fact that the terminal building of Istanbul Airport has been found worthy of the LEED Gold certificate with its current size. Ramanujam: "Nowadays, airports are not mere centers of transportation but places where people connect and get inspired, places that mirror the cities they are located in. As an entrance point to Turkey, the terminal of Istanbul Airport will also mirror the first impression that the millions of passengers passing through its gates every year will get at the airport. Istanbul Airport, as the largest "LEED Gold" certified building worldwide, is a manifestation of the fact that, no matter the size or unique aspects of a project, all projects can be a healthy, sustainable and high-performance place if designed in the right way."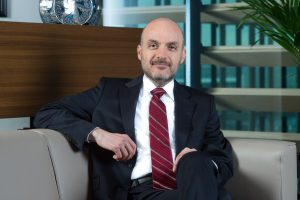 Istanbul Airport continues to be a gamechanger
Commentating on Istanbul Airport's official registration with a "LEED Gold" certificate by USGBC, Kadri Samsunlu, CEO and Director General at İGA Airport Operation Inc, made following statements "This good news has brightened up our day in these difficult times of the world's fight against Covid-19. At every stage at Istanbul Airport, from its design process to construction and from the construction process to commencement of operations, we have always paid ultimate attention to take all our steps in line with our targets of sustainable development. By virtue of this implementation model, we have qualified to receive the LEED Gold certificate that made us the world's largest "LEED Gold" certified building. As İGA, we consider compliance with sustainability principles as the most important component of our corporate culture. Based on this mindset, we have set the "Zero Waste" approach as a key success factor and have put sustainability to the core of all activities that are being carried out at Istanbul Airport. Thanks to this approach, we have qualified to receive the LEED Gold certificate, and thus, we broke ground yet again. By this award, İGA has crowned the Turkish aviation industry with yet another achievement. As we always say, Istanbul Airport has always been and will always be the airport of new grounds and top ranks. We are so proud to have succeeded in putting sustainability to the forefront in all steps we take, so that we, the world, the future, the environment can reach a sustainable level of self-sufficiency. The "LEED Gold" certificate has been the cherry on top and is the biggest proof that we are on the right track. As a reflection of our respect to the world and most notably with the sustainability approach we have committed ourselves to, we will for sure continue to work with all our strength to leave a viable world to future generations."
#IstanbulAirport, #airport, #leedgold, #new, #IGA