Turkey offers important investment opportunities for the giant companies of several countries. Turkey is among the most interested countries in the cosmetic industries and several giant brands are considering investing in the country. Turkey is counted as the most attractive country in Middle East and East European cosmetics markets.
Tourists coming from Russia, Iran and other Middle Eastern countries are visiting cosmetics stores in Turkey. Tourists from these countries make their cosmetic shopping in Turkey. As the fastest growing retail sector, Turkey has attracted interests of global brands and investors from the Middle East. Cosmetic firms in Turkey sell their goods in export markets more than they sell in the country. Turkish companies are advantageous as they located in a good position.
Iranian tourists and those coming from other countries in Middle East show great interest while shopping cosmetics in Turkey. They mostly shop in groups and buy great amount of products and varieties.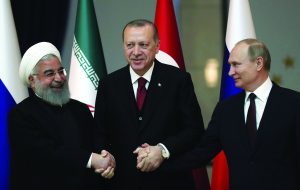 Turkey, a country of opportunities
Turkey is pointed out as the most attractive cosmetics market in central and eastern Europe as well. Thanks to its sustainable economic growth and its demographic structure it is expected that the consumer spending will remarkably rise in the next ten years. Though there seems to be a small setback in sales of luxury brands, the rising income of consumers may help to regain their positions.
Russians consumes the most
Russians consumes five fold more cosmetics than the consumers in Turkey. They prefer Turkey for its proximity to their countries and share of Russian buyers are rather high. So, great companies competes to invest in Turkey for cosmetics.
Iran is the new target for beauty companies
The decree of Iranian government that prohibits the imports of domestically produced products into the country, has put a brake on the exports to this market, including textiles, household appliances, food, medicine and cosmetics. It seems that Iranian market will be affected more from this prohibition. In other countries in Middle East, sales of cosmetics go up. Skin care products are the most sold cosmetics product in the region. In spite of all these, Iran is counted among the top export countries in the Middle East. Facial care products have the largest share in cosmetics in Iran. A boom is experienced in the sales of hair care products in the Middle East. Producers and supplies in hair care industry invest in the region where more than 30 thousand coiffeurs are active in their profession.